1. WeatherVis
shows multiple images on one screen. Now it is possible to watch all your weather images in real time without searching in your hard disk directories. Easy, fast, full overview and time efficient.
- for XP, Vista, Windows 7
- shows up to 25 images on one screen
- defines up to 50 images
- all common image formats including animated images (gif)
- defines up to 10 image groups
- real time mode (local time or UTC) to show latest images
- select date/time in manual mode
- switch on/off bigger center image
- drag and drop of images
- start external viewer (IrfanView) to show image in full resolution or start dia show (movie)
- tool tip to get operation informations

Organise your data(files) with/without timestamp in folders per day/or not, copy WeatherVis files in any directory, start WeatherVis, define your images and then watch your weather.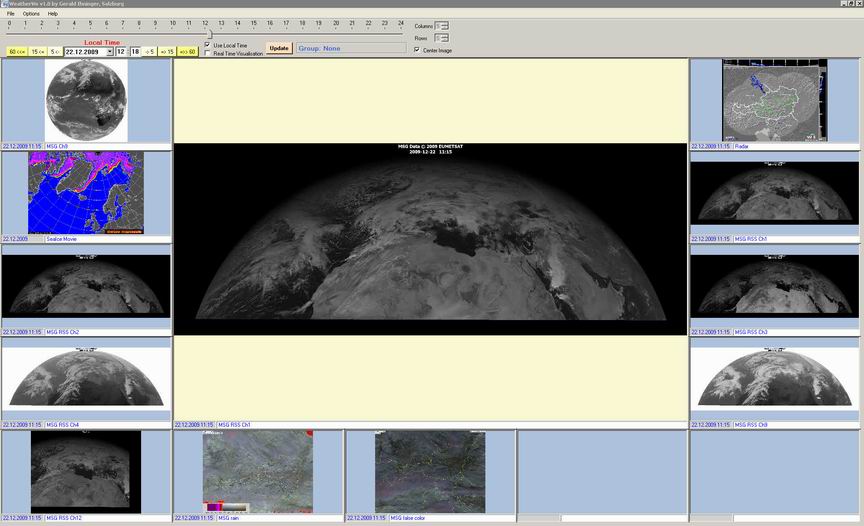 2. SatLink Budget
determines antenna dish gain, noise power, signal power,system noise figure, freespace loss, ...: See also RIG71 journal.

Version 3.5: for 800 X 600 screen resolution:
- METOP satellite included
- Save location
- Save dish parameter
- Info about installed propa.dll
- ITU-R propagation loss calculation (rain, clouds, atmospheric, scintillation).
Satlink can use the propa.dll from https://logiciels.cnes.fr/content/propa .
Install the propa.dll in the satlink directory or in the windows\system32 directory.
Without the propa.dll satlink uses easy ITU propagation calculation.
- for GEO/LEO satellite (analogue and digital)
- elevation, azimuth and polarisation tilt for geostationary satellite
- digital Eb/No, BER calculation
- digital coding (FEC, RS)
- FM modulation gain, FM threshold
- C/N, S/N calculation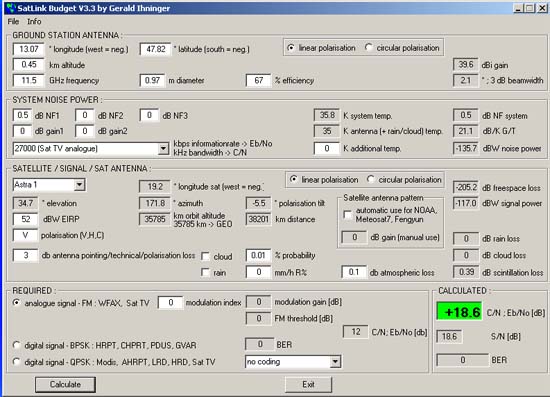 3. Microwave link budget calculation
Click on image, download and extract my Excel sheet "Link budget v2.1" to calculate microwave links up to 1000 GHz. Calculation of atmospheric attenuation (ITU-R P.676-12) is included.